Today I drilled holes for the bullet catches, but only after making a precise jig to help. The catches install into a round hole you drill into the cabinet frame and the bottom of the door. For them to install properly, the hole needs to be centered in the face frame front-to-back, and most importantly must be drilled to a very precise depth.
If the hole is too shallow, the top of the catch will stbe proud of the wood, which is ugly and might mean the door can't clear it when closing. If the hole is drilled too deep, the catch will go too far into the wood. That not only looks ugly, it probably means the catch won't work, since the ball bearing in the frame portion must rest in a slot in the portion installed into the bottom of the door.
Since the frames are already installed, there's no way to remove a catch sunk too deep without tearing up the face frame in the process. Time for a jig.
The jig isn't too complex, it's the precision that matters. The wood is long enough so the hole is precisely the right depth when the chuck of the drill contacts the top of the jig and I can't drill any deeper. The 'lip' at the front helps me keep it positioned front-to-back. And the faces are cut completely square to make sure the hole is vertical.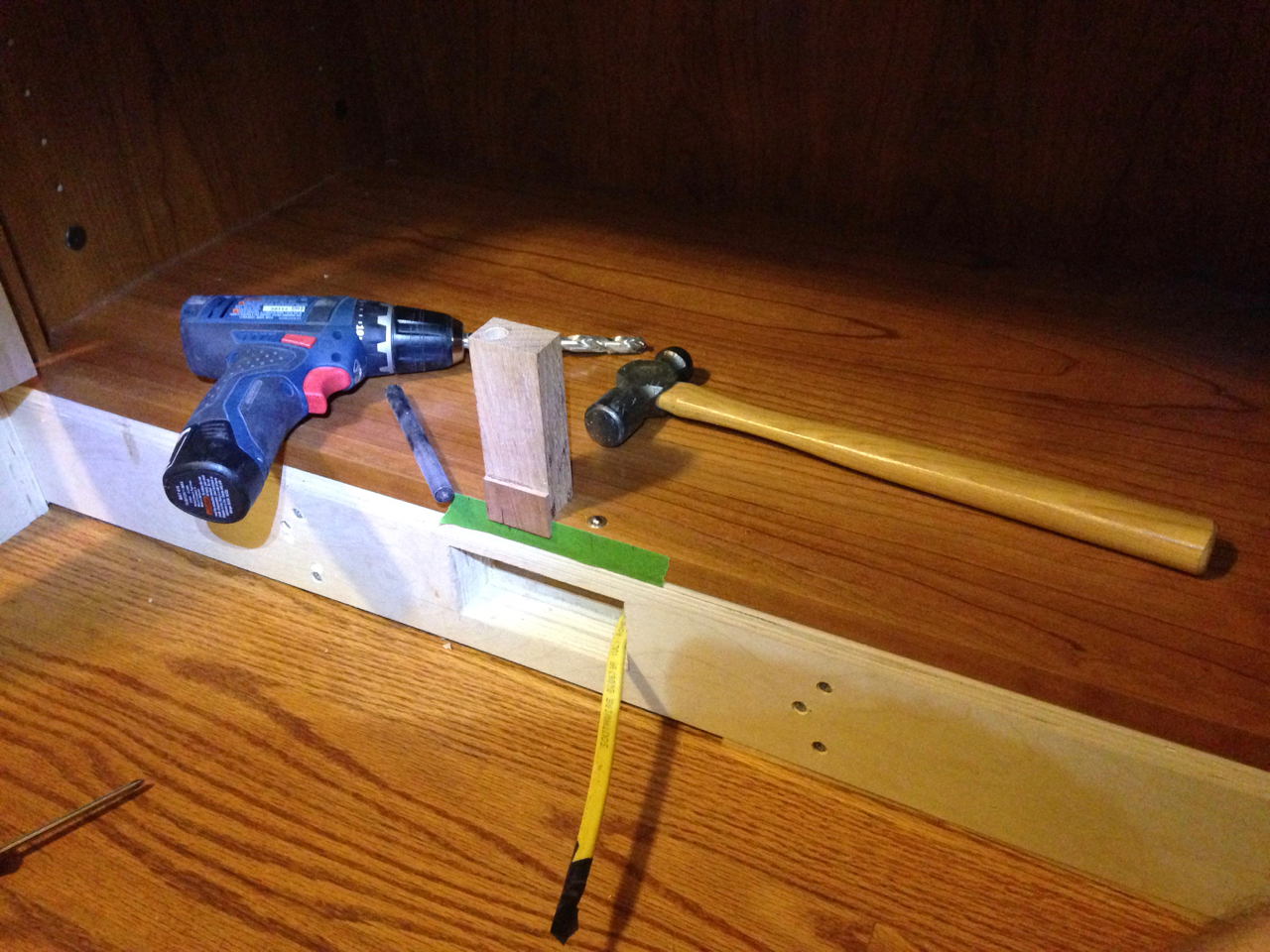 I also used a transfer punch to create a dent in the wood to hold the tip of the drill bit as I started. I drilled a bunch of test holes and found if I didn't make the dent the drill bit would wander as it was starting. This made the top of the hole too large and oddly shaped. Making the starter dent was as simple as positioning the jig, putting the punch into the jig hole, and rapping it firmly with a hammer.
Happily, I was able to drill all the holes without any mistakes and all the frame portions of the catches are installed.